Intro Video - Benefits and How it Works
Introductory Video
We suggest you also see the Introduction to Collectionaire video on the Home page.
Introduction via Text
Collectionaire enables family curatists to organize keepsake media (photos, videos, documents or audio) into "Media Collections" for each individual and also each couple/family unit; or each division of an organization or item of a collection. Viewers can access each collection through a tree-type hub, as shown below for families.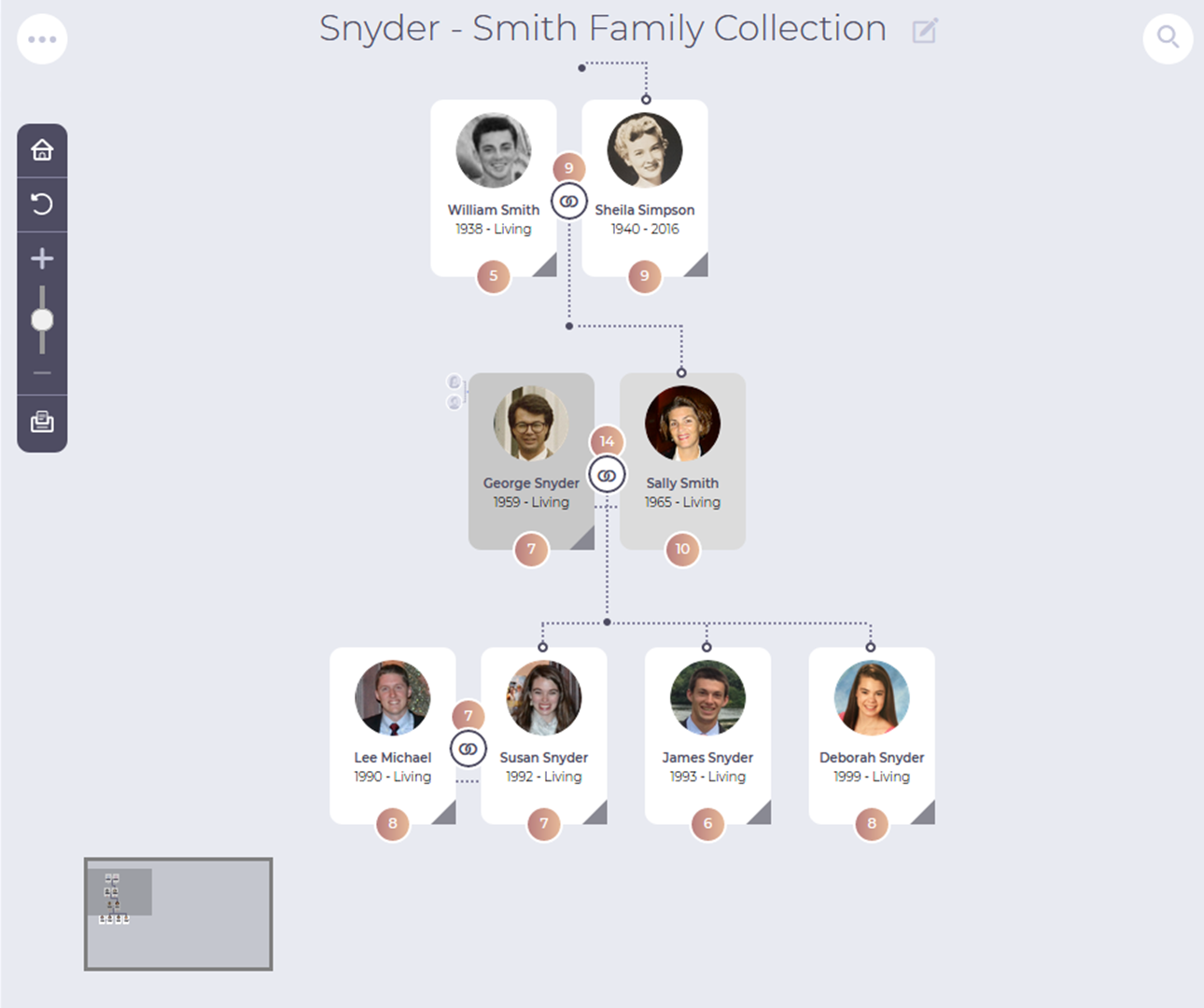 Clicking on an individual in the tree (above) brings up their individual Collection (see below) focused on the life of that one person. Clicking on the round button intersecting a couple brings up their Family Collection, ideal for photos and videos of the family unit, such as holidays, family vacations, etc.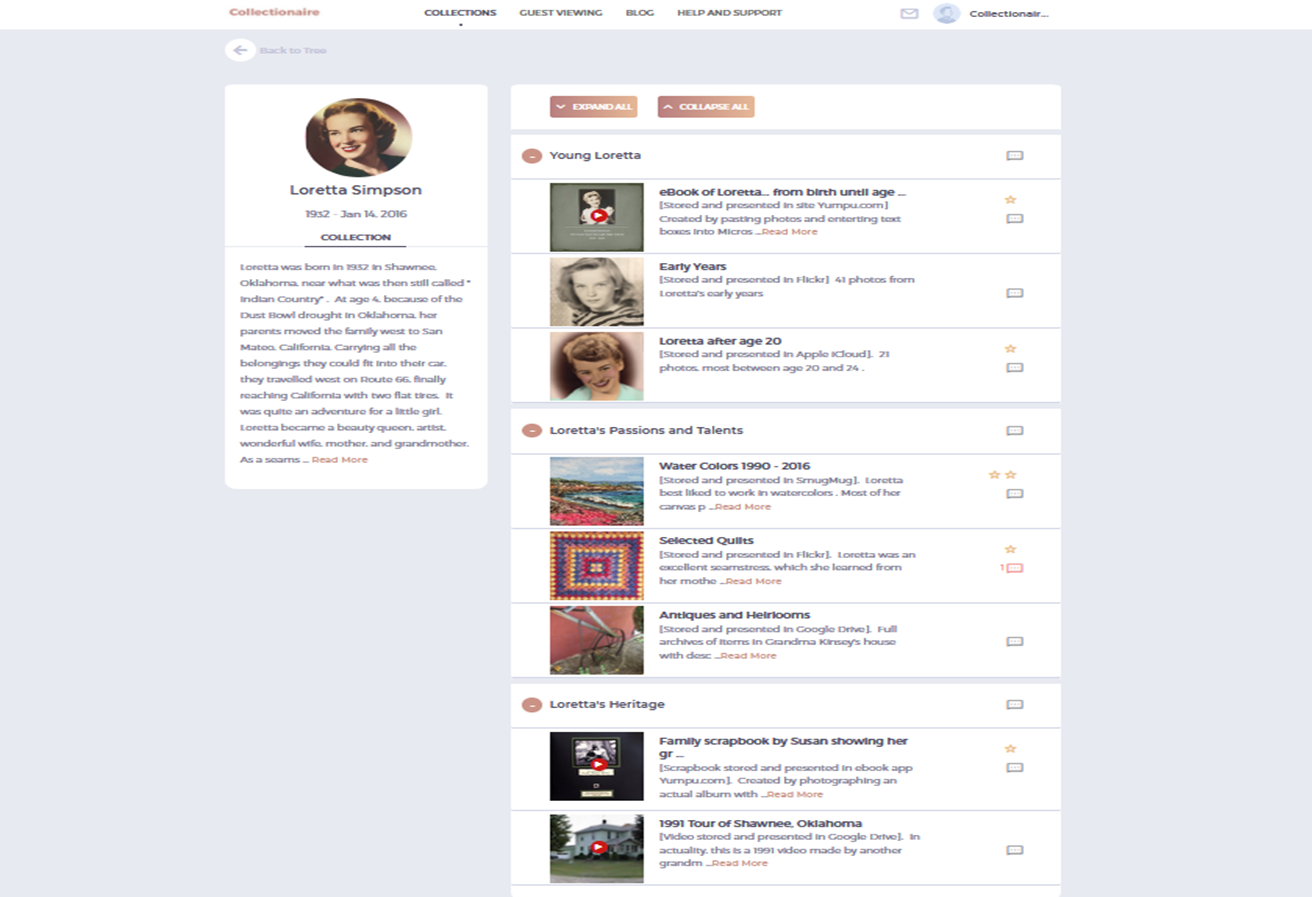 Some people already have photo and video collections in one or more cloud services and are ready to organize in the app. Others will need to get their media ready. Here's a summary of the process:
To use Collectionaire, your Objectives will be:
Digital Conversion - Get your keepsake photos, home videos and mementos converted into digital files, and store them on a computer hard drive. (We suggest you then back them up using a portable hard drive.)

Into the Cloud - You'll next upload your digital files to one or several cloud locations. This will allow Collectionaire to access your files from any device and also provides secure backup of your valuable media. Best practices would encourage you to use one location for your photos and perhaps a second for your videos. This is because Google Drive, Vimeo and YouTube are likely best for storing your videos because they allow you to start a video at a selected scene in the movie, but probably not best for your photos.

First Level Organizing - Once files are in cloud sites, you'll create "Albums" in thees locations. An Album can be simply an individual file (like a video) or a collection of documents or photos.

Build Your Tree - Now back to Collectionaire where you'll add any individuals to your tree for whom you want to add a media collection. This can be a full family tree going back generations, or just a few cells to track media and files for yourself or your immediate family.

Build Your Collections - Here's where it all comes together.

You'll get a share link from the file or Album in the cloud site where it is stored.

You'll click on the person or family it pertains to in the Tree, which takes you to their Collection.

In the Collection, you'll add Chapters and, under these, Entries.

Each Entry can then contain as many Linked Albums as you'd like. It is in the Linked Album creation screen where you will paste the Share Link. (The first Linked Album in an Entry has the same Title and Description as the parent Entry, though you can edit either.) Often the app can then generate a preview image of your Album, or you can upload a custom image. After saving the Linked Album and Entry, you will simply click on that preview image in your Collection page to instantly access your media, which opens in a new tab in your browser.
For more information...
See the Help category Converting Media to Digital, and our Blog entries for more information/
See our Help category Cloud Sites & Uploading Media, and Blog discussion Cloud Storage Locations,
See our Help category Creating a Tree
See our Help categories Creating a Media Collection and Creating Albums in Cloud Sites.