Creating Linked Albums
Adding Linked Albums
(Please also see the intro video "Adding a Linked Album to a Collection" in the Help category: Introductory Videos.)
It may help to think of an Entry as simply an empty file cabinet or empty shelf, waiting for you to add Linked Albums. Remember that it's called a linked album because the actual photos or videos remain in another photo-sharing cloud service and we are simply "linking" our collection to the media that remains in that other site. So after entering the Entry Name and optional Entry Description, you'll select + CREATE NEW LINKED ALBUM to add the first Linked Album that pertains to this Entry.
[In case you want to review: a Linked Album holds no actual media, but instead simply stores an Album Name, an Album Description, a Preview Image and an Album Link / URL or web link to a real digital Album (often called a Shared Album or Shared Gallery) containing your photos or videos, located in a 3rd party cloud site such as iCloud Photos, Google Photos, Flickr, Dropbox, etc. The Link / URL is a "share link" generated by the 3rd party site that you will copy and paste into the Album Link / URL text box of the Linked Album Entry in Collectionaire. This may sound complex at first but but it will soon become quite simple for you. (See the Help Category Cloud Sites, Albums and Links for help in creating your Albums and learning how to get links.)]
The first thing you'll notice is that this Add New Linked Album entry form (below) is quite similar to the Add New Entry entry form and is even pre-populated with the same Name and Description as your Entry. This is because in most cases, there will be just one Linked Album in an Entry and this lessens your work. If there are more than one Linked Album to be entered for this Entry, you may wish to change this Linked Album's name and description if you'd like.
Next you'll see, below the Description, the text box titled Album Link / URL. This is where you'll past the Link or web address of the shared Album from the third party site.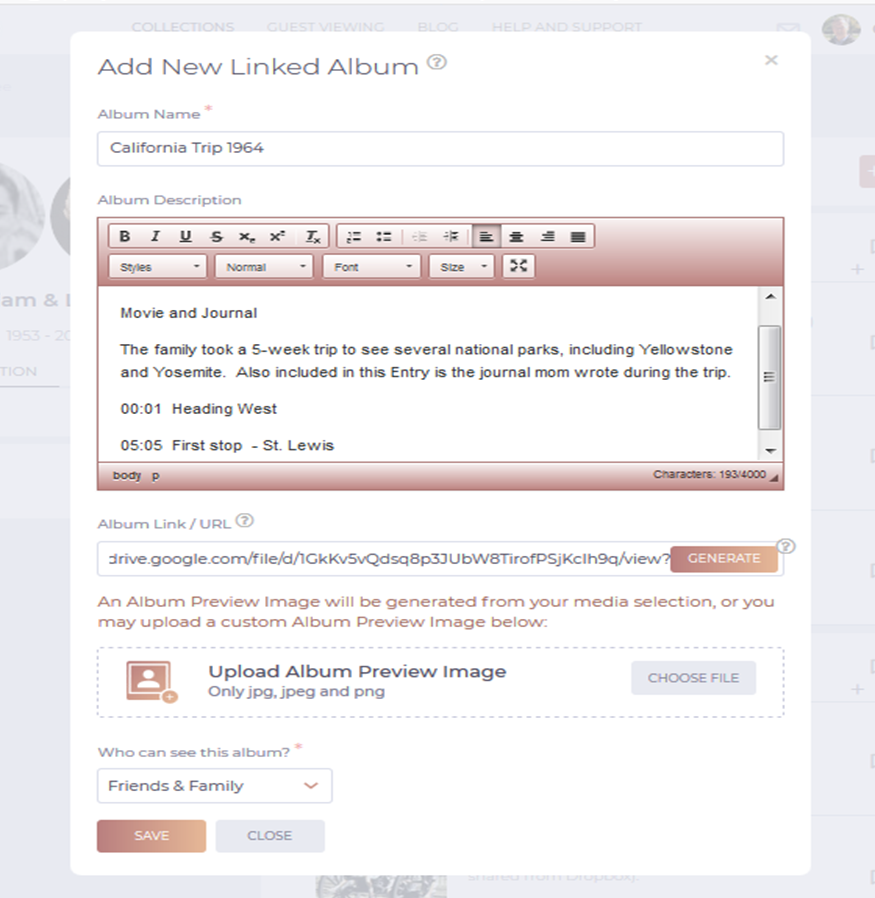 After entering the URL, you will click GENERATE, which generates a preview image for your Linked Album. Here (shown below) you'll be able to zoom in or out and drag the template to crop the image for your Album Preview Image.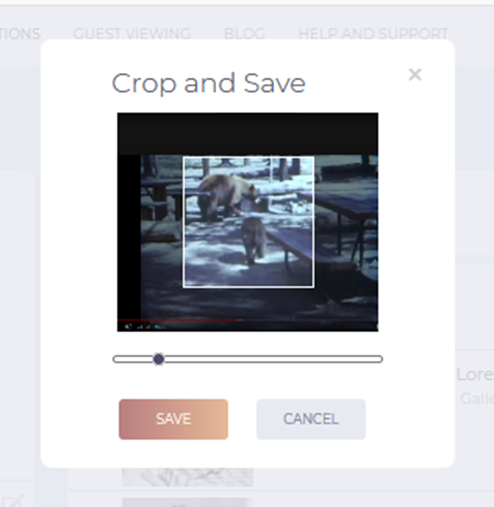 In most cases (e.g. Flickr, iCloud Share Album, Google Photos, etc.) the preview image is the same as the Title image created in that Album. In some cases, such as photos stored in iCloud Photos, Google Drive (not to be confused with Google Photos) the site will not allow us to automatically generate this image. In these cases, or if you're not happy with the automatic image generated, you can upload a custom imge for the Album. See the Help FAQ on How do I add a custom Preview photo to an Album or Entry?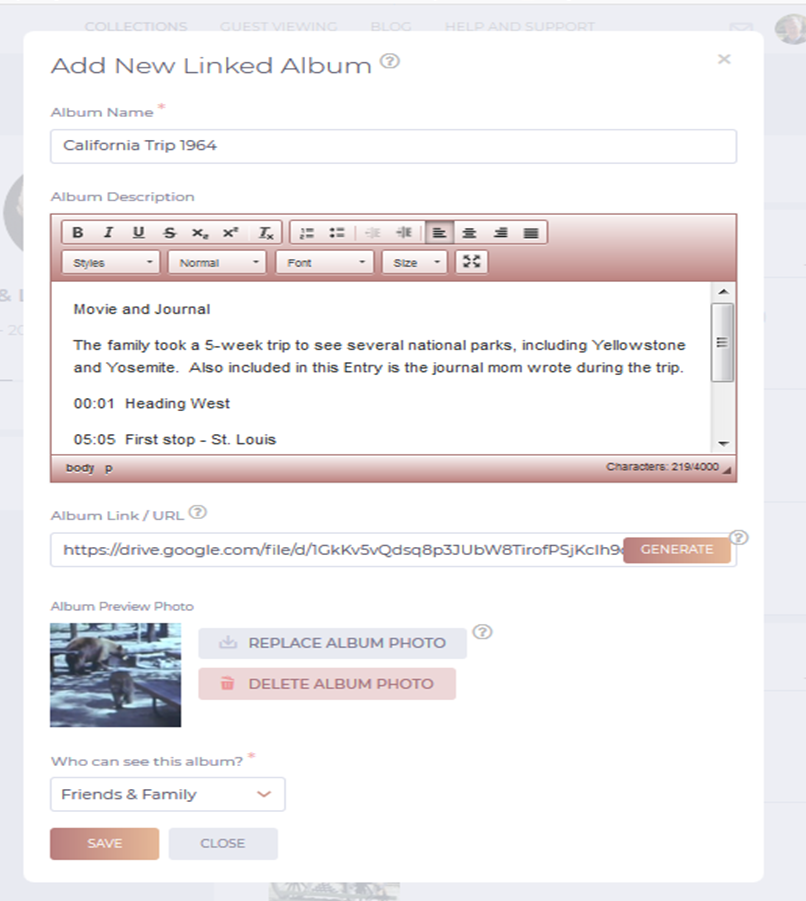 Clicking Save on the Linked Album page then places it as the first Linked Album in this Entry (image below).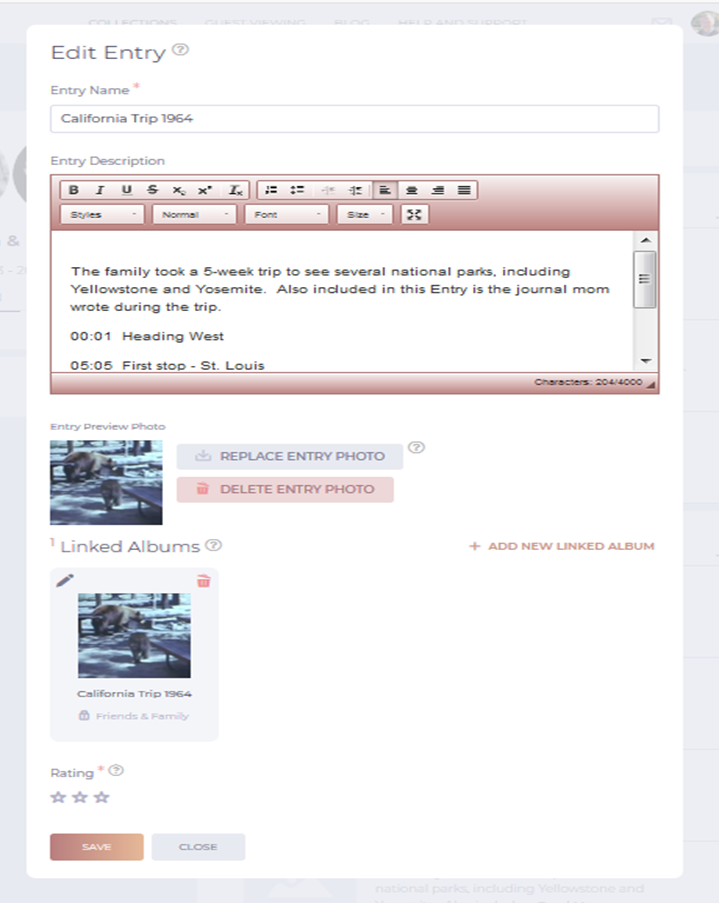 Adding a second Linked Album would place it right beside this first.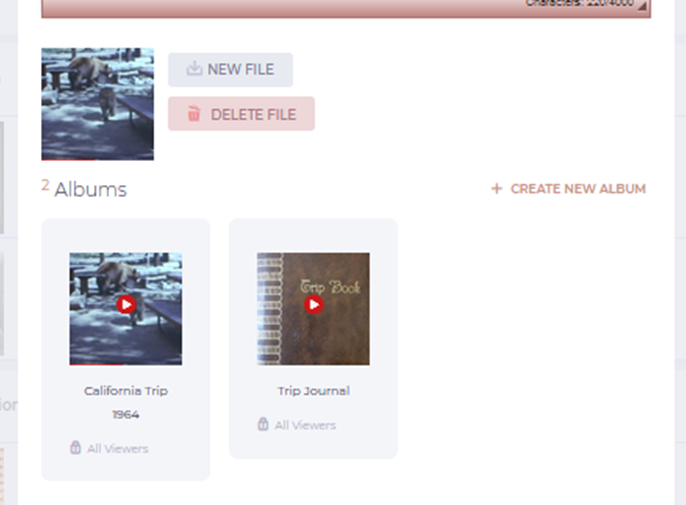 When the Entry is then saved, it will be seen on the Collection page (below). If it's a video, a "play" icon will be added.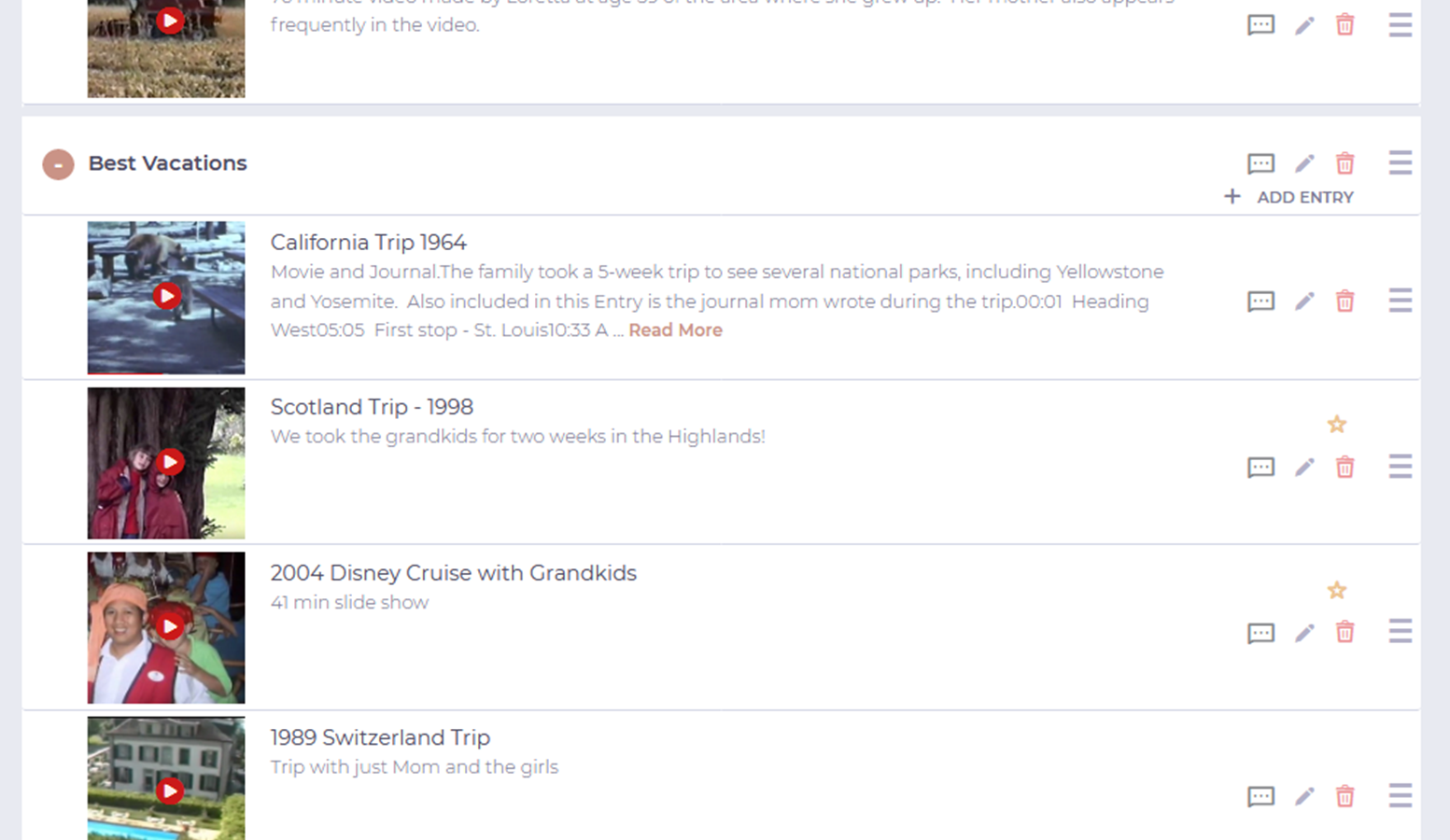 If there's only one Linked Album in a given Entry, clicking on an Entry preview image will open a new tab in your browser that will contain your Album from the other cloud site.
If you've entered more than one Linked Album in the Entry, then clicking on the Entry image will bring up another page with all the Linked Albums for that Entry, where you'll be able to select the Album you wish to view. In our example, it would contain both a home movie from a 1964 California vacation and the Trip Journal of the adventure.